LOTTERY TERMINALS & INTERACTIVE KIOSKS
We know how to create a unique event, lottery, competition or other promotional campaign.
OVER 4,500 UNITS ON STOCK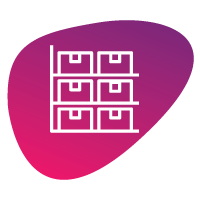 allows us to organize a lottery for over 2,000 points of sale at the same time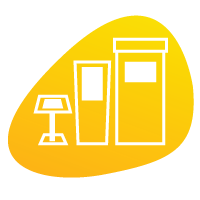 which can be adapted to any store format, with components matched to individual requirements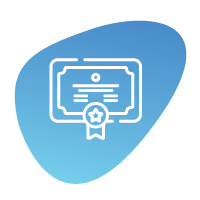 our interactive terminals have technical accreditation and are GDRP compliant
Gaming terminals are used in all industries to create traffic, point-of-sale animation and data collection. We program our devices for a specific lottery  by developing software for games and animations.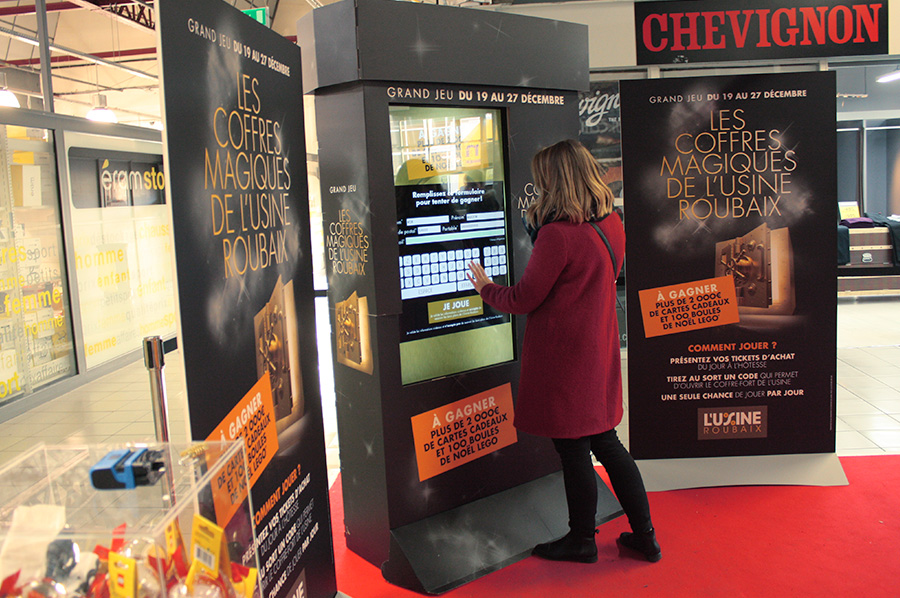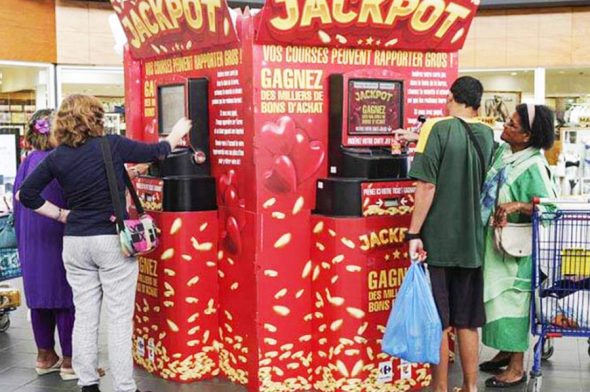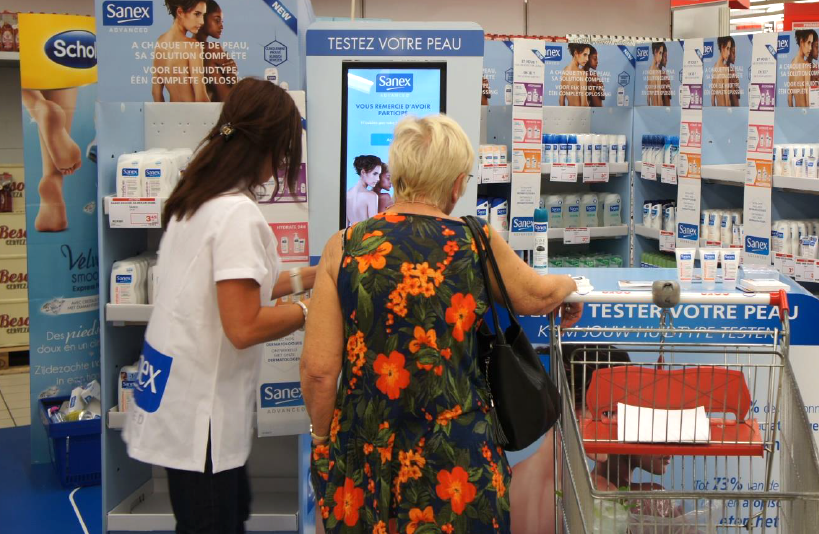 In our kooks we can include touchscreen, barcode scanner, coin selector or additional accessories such as the jackpot lever or photocell that initiate the start of the game. Everything is a matter of idea for action. The Axia team will advise you on the model best suited to your needs.
Display terminals are visible in the store thanks to spots and sound jingles – it allows you to propose an attractive, efficient and maintenance-free event for the customer. We can build customized cover just for you – in the shape of birthday cake, arch or lighthouse – depending on your action theme.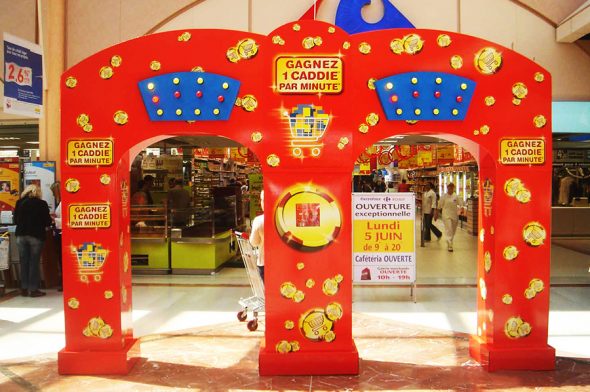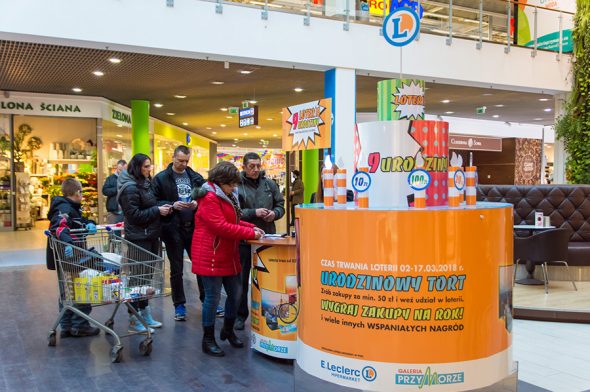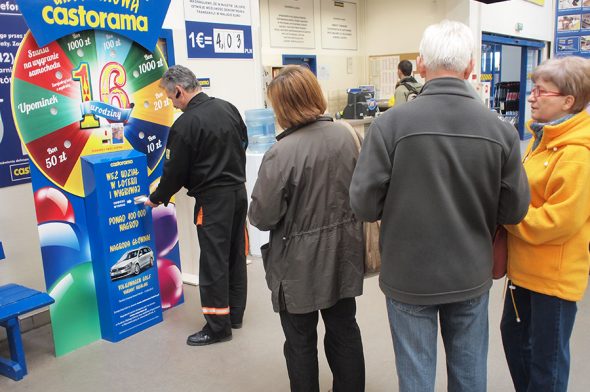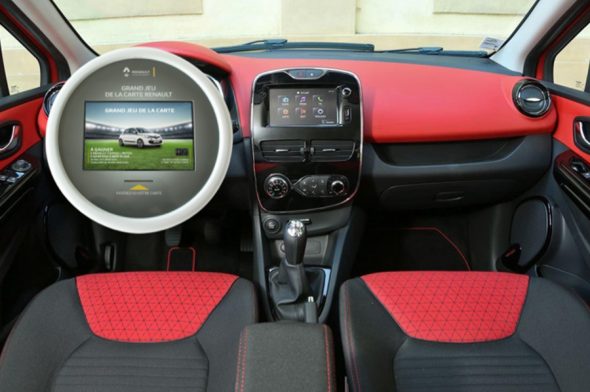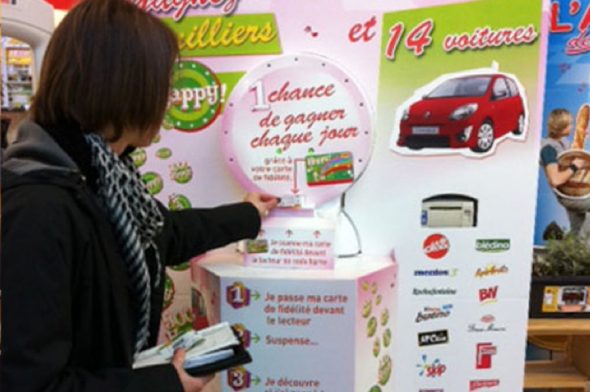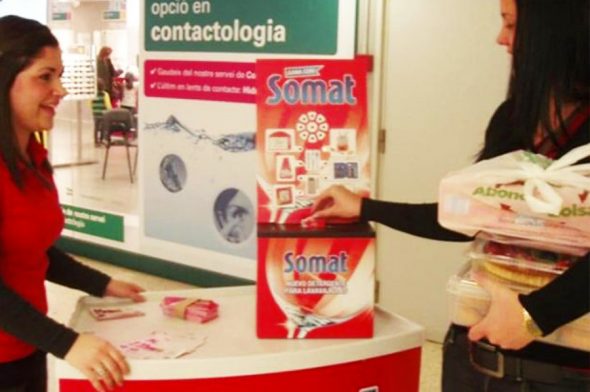 Recommended for small stores, perfect for organizing lotteries for brands. Just very simple & quick installation and a lottery or competition ready to start.
A WIDE RANGE OF TERMINALS
FOR EVERY KIND OF STORE
Regardless of the purpose and size of the point of sale, we can find a model that will suit your needs.
Check out the best models.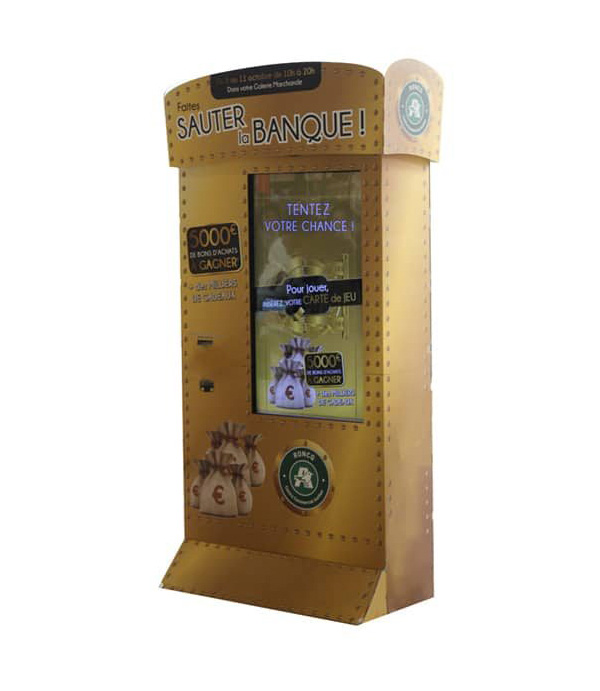 47" TERMINAL
The ultra modern terminal with a 47-inch touch screen and XXL cover. Ideal for animating large spaces. Various animations available for lottery.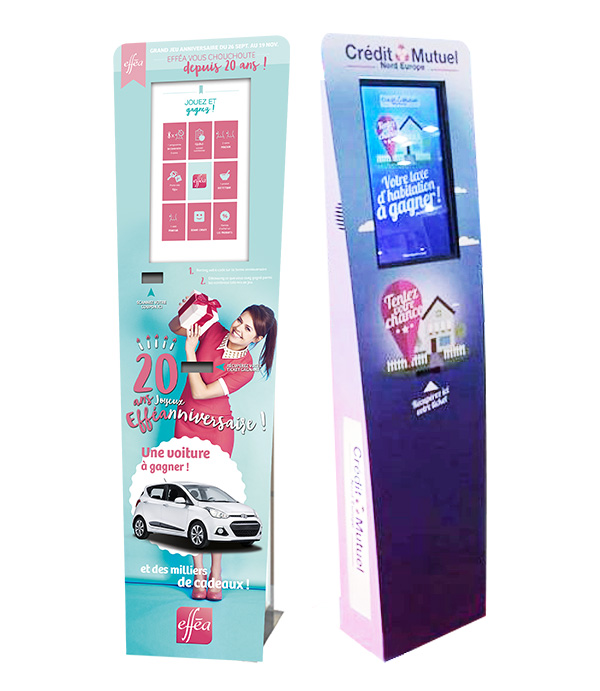 22" TERMINAL
Modern design, ideal for collecting customer data. Aluminum cover with the option of printing the customer's design.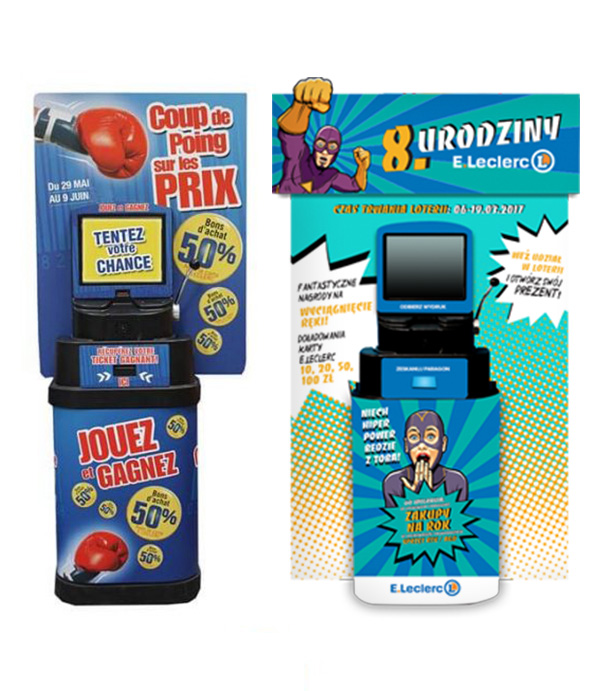 JACKPOT
To start the lottery, client need to pull the lever of terminal by himself. That's how we build the Jackpot atmosphere!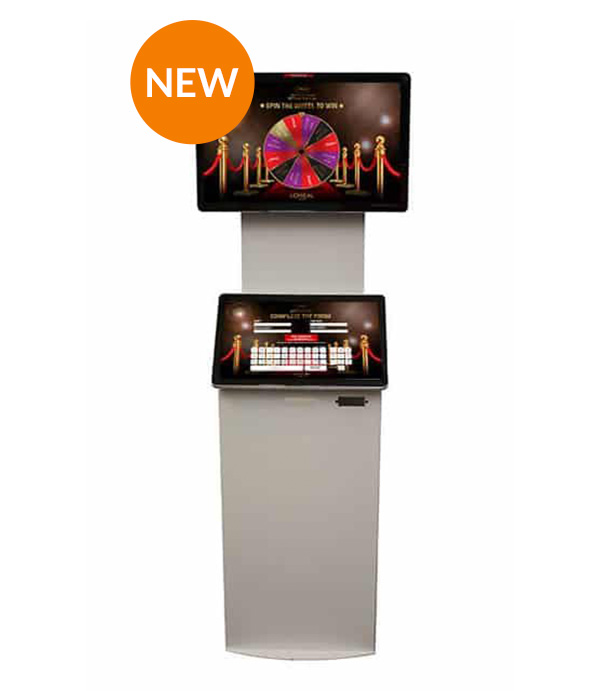 DOUBLE SCREEN
The double screen provides an optimal visual effect: the upper screen attracts attention, while the lower horizontal screen allows quick enter data.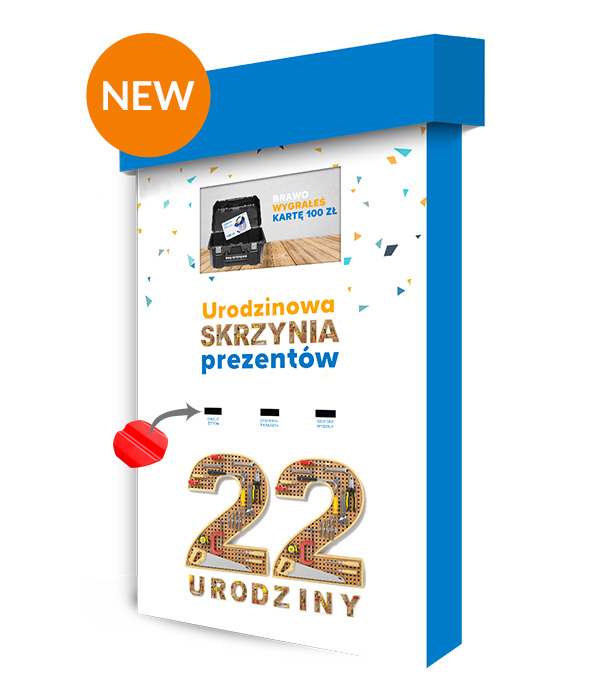 TOKEN TERMINAL
A unique element of starting the game with a token given by cashier - a strong motivator to take part in the game. Achieved participation rates up to 95%!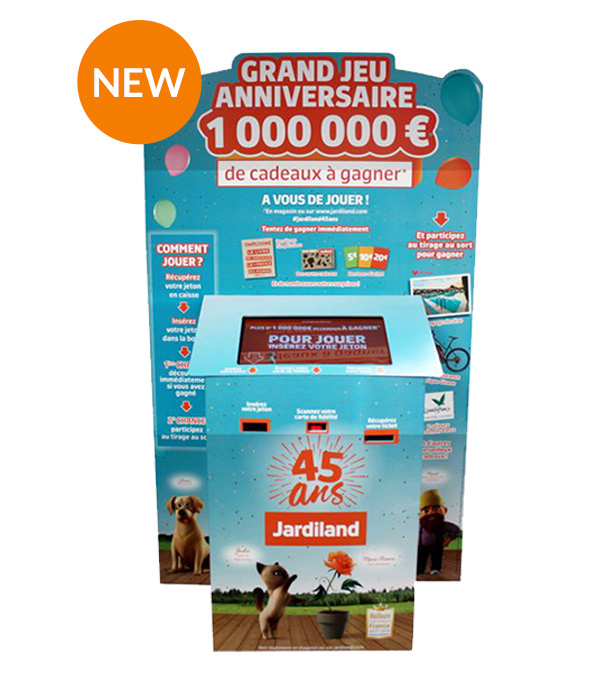 TABLET
This model has a horizontal screen. New in our range of gaming devices. Large decoration area for marketing communication.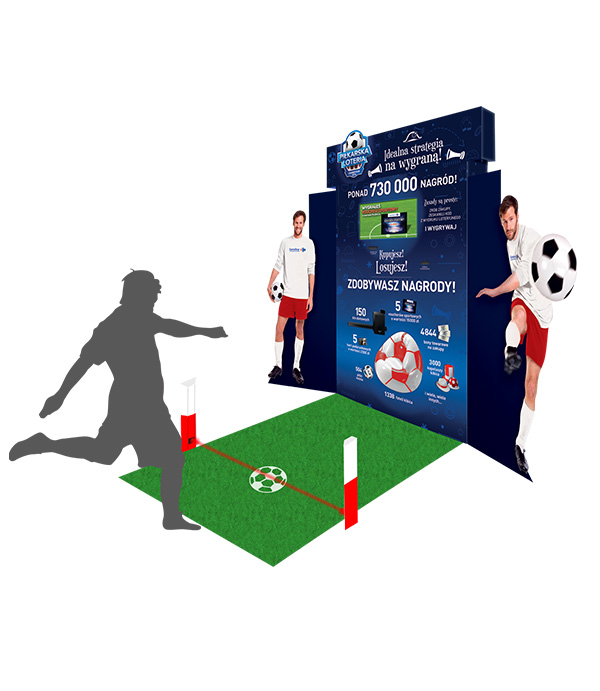 MOTION TERMINAL
Integration with a photocell allows us to organize interactive lotteries for the customer - e.g. a leg movement triggers a virtual goal score.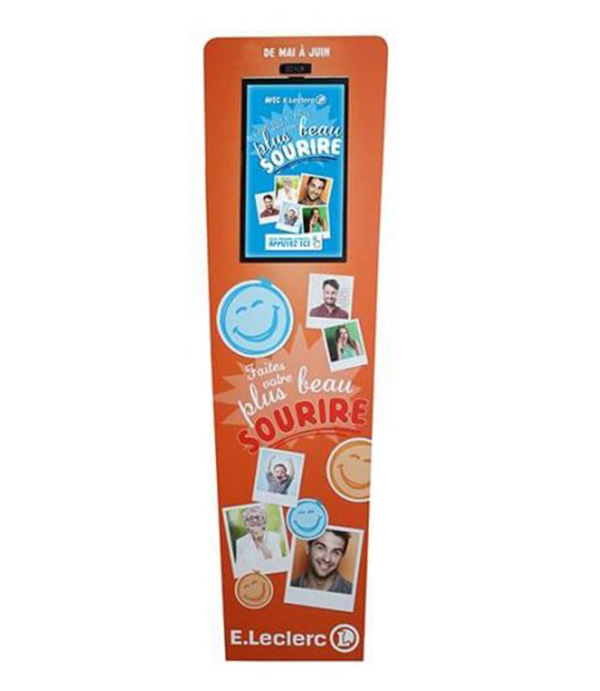 FOTO TERMINAL
The terminal is equipped with a webcam that will allow your clients to take a photo, print it or share online. Perfect for entertainment.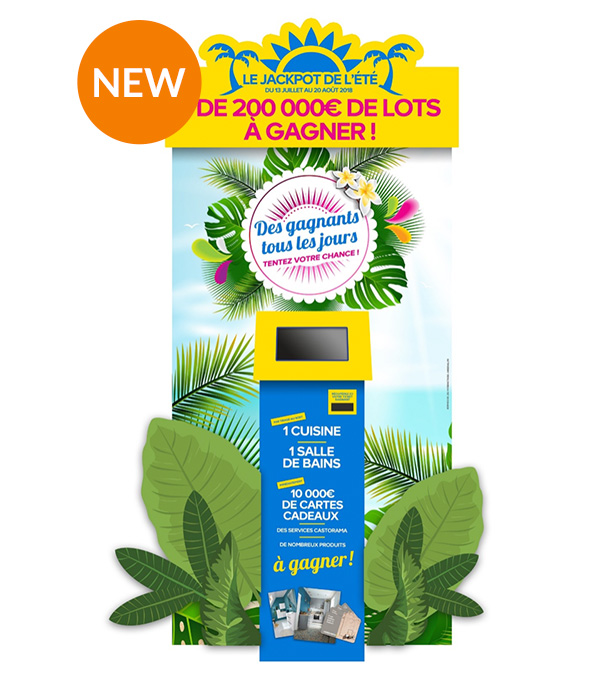 10" TOFF TERMINAL
Terminal with a 10 "screen with a built-in scanner and printer. Ideal for lottery animation for smaller stores. The compact cover and simple assembly.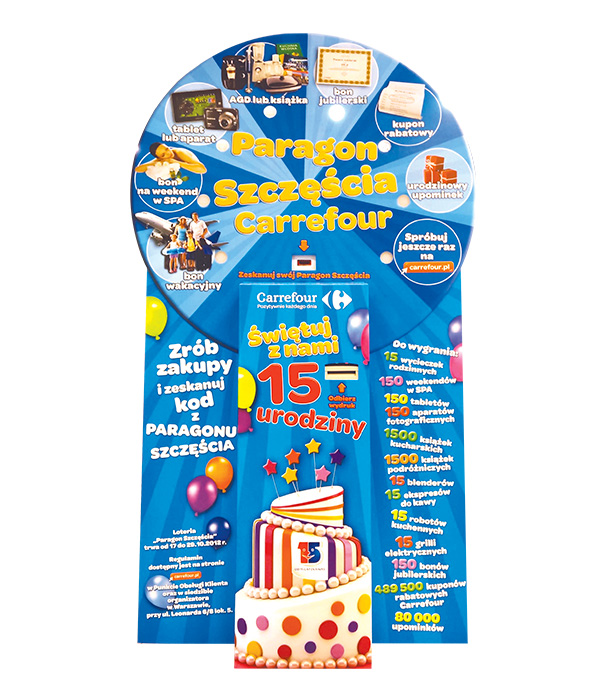 FLASH MACHINE
The terminal is equipped with 8 ultra bright light spots used for the animation of the draw. Visual effect guaranteed!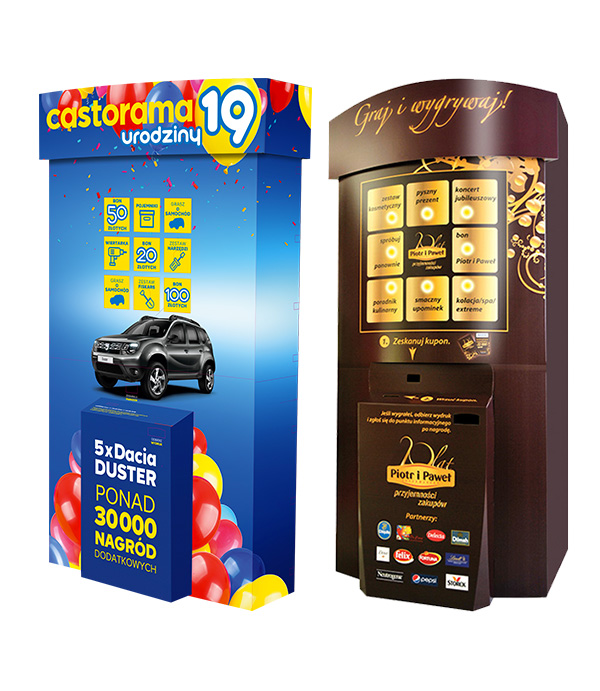 MEGALIGHT
Scanning the coupon activates the backlight of 9 light boxes. The terminal is decorated with a double-sided cover.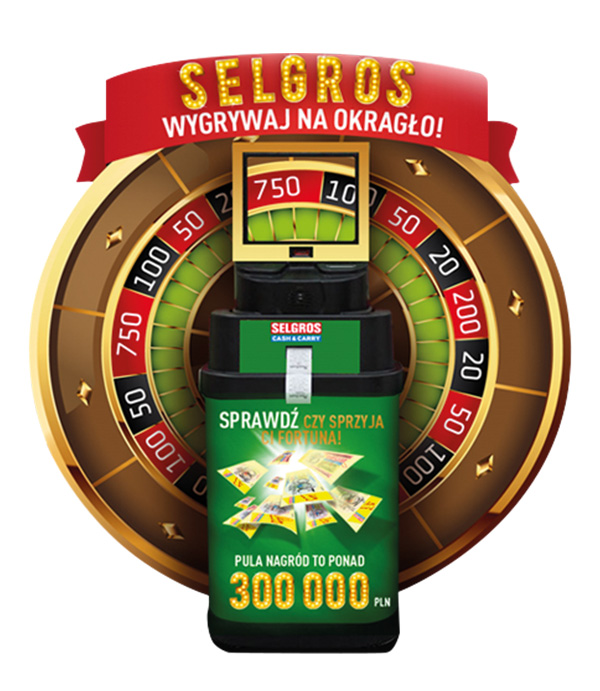 17" TERMINAL
The terminal screen is only an element of the prize draw animation and display of game messages. Thematic design of cover.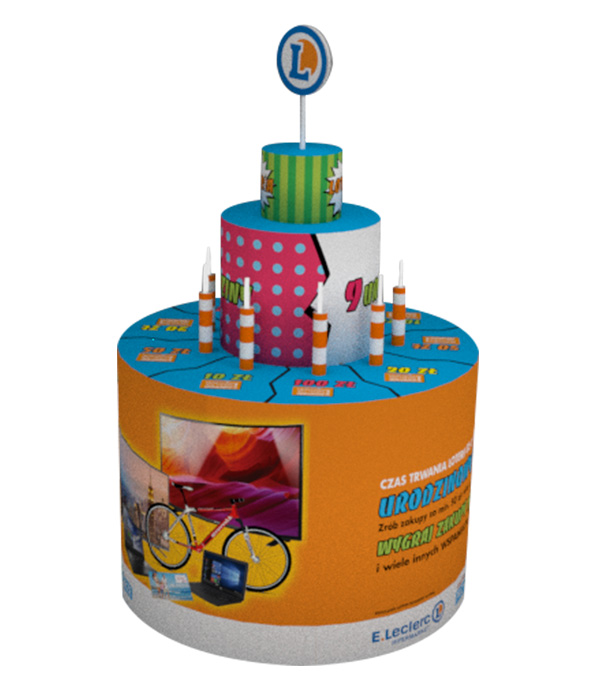 CAKE TERMINAL
A terminal in a shape of birthday cake - ideal for anniversary lotteries. Winnings are communicated by lighting a candle and birthday jingles.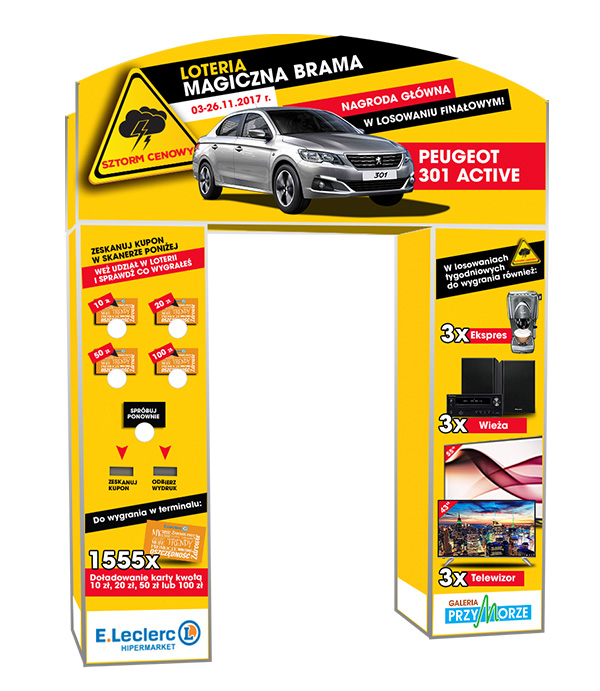 ARCH TERMINAL
Two terminals packed in a big cover of an arch. Enables 2 participants to play at the same time. Ideal for large commercial areas.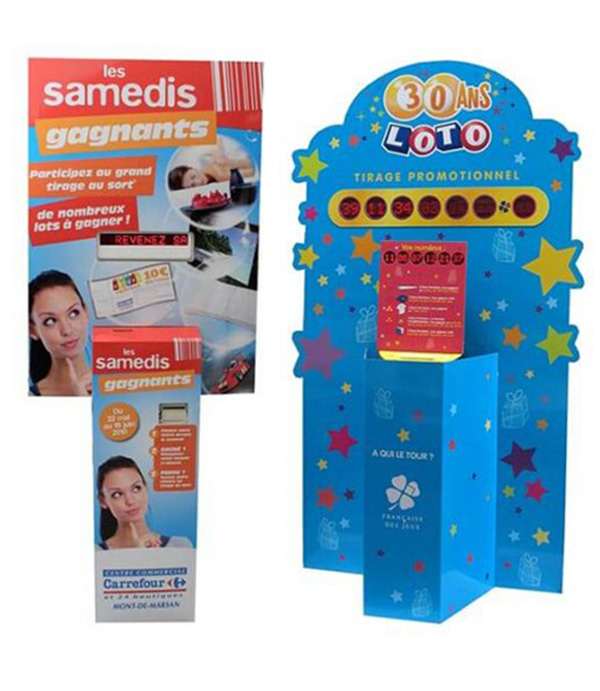 DIGIT BOX
The digital panel allows you to display personalized text. Built-in printer and scanner. It is the most economical large format terminal!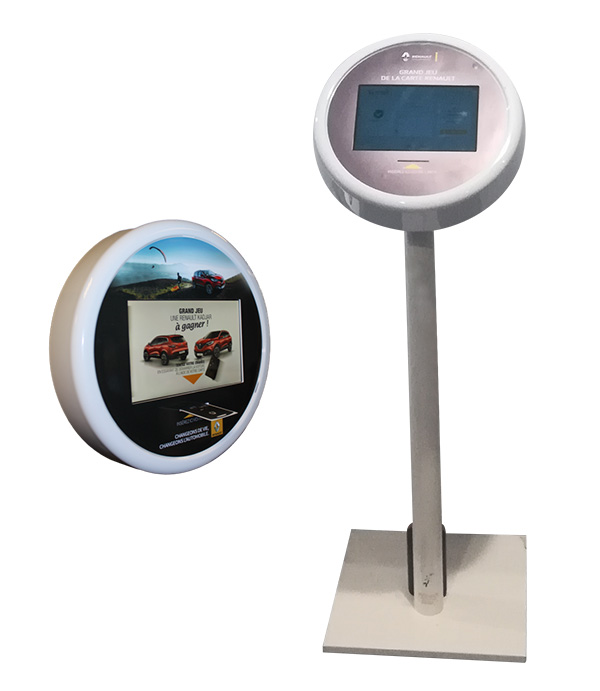 STEERING WHEEL
Individual design and construction adapted to steering wheel of a car. Equipped with a touch screen and scanner. Internet connection possible.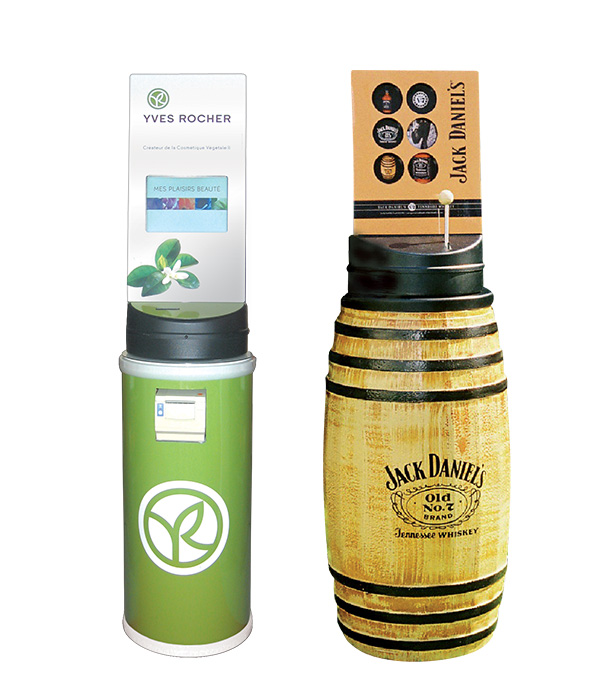 BRAND COLUMN
Mini terminals with screen or lever & light spots. Dedicated cover designed for the brand, perfect to attract consumer to your product on shelve in store.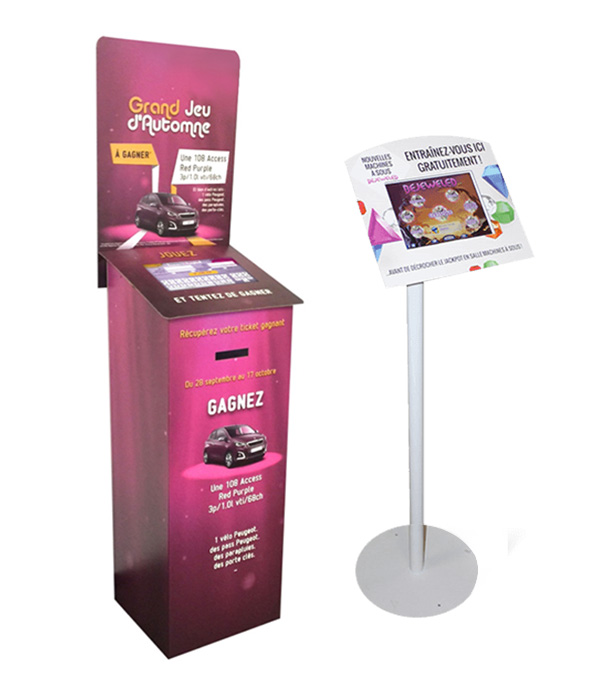 TABLET
Tablets can be integrated into a completely secure aluminum cover or frame. It is possible to decorate the screen with brand colors.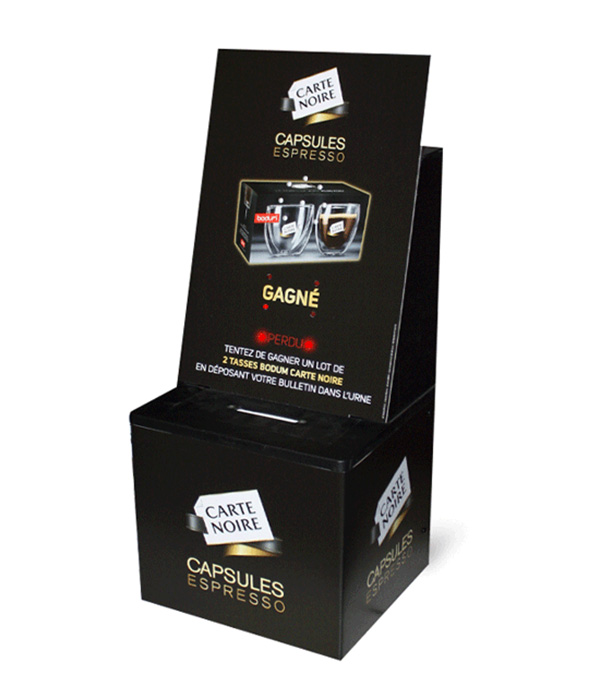 SLOT
Great sales support tool, terminal equipped with 8 bright LEDs attracts the attention of the customer. Battery powered.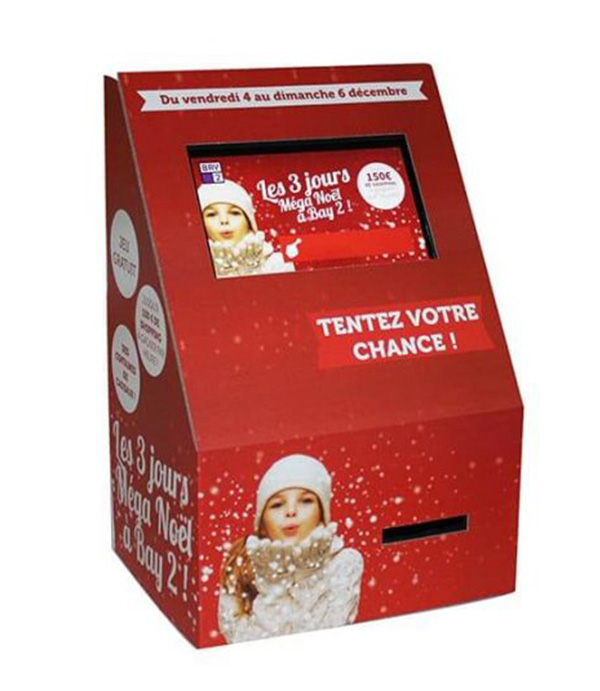 TEEZY
Teezy terminal with 10-inch touch screen and printer is ideal for promotional campaigns for example you can print a discount coupon for your client.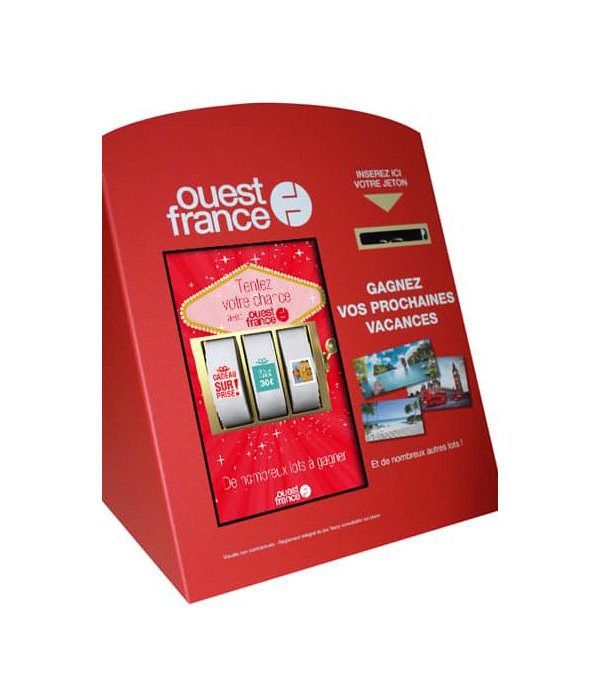 TEEZY 2
Teezy mini terminal in a simpler version, without a printer. Great for actions with hostesses, the course of the game is visible on the screen.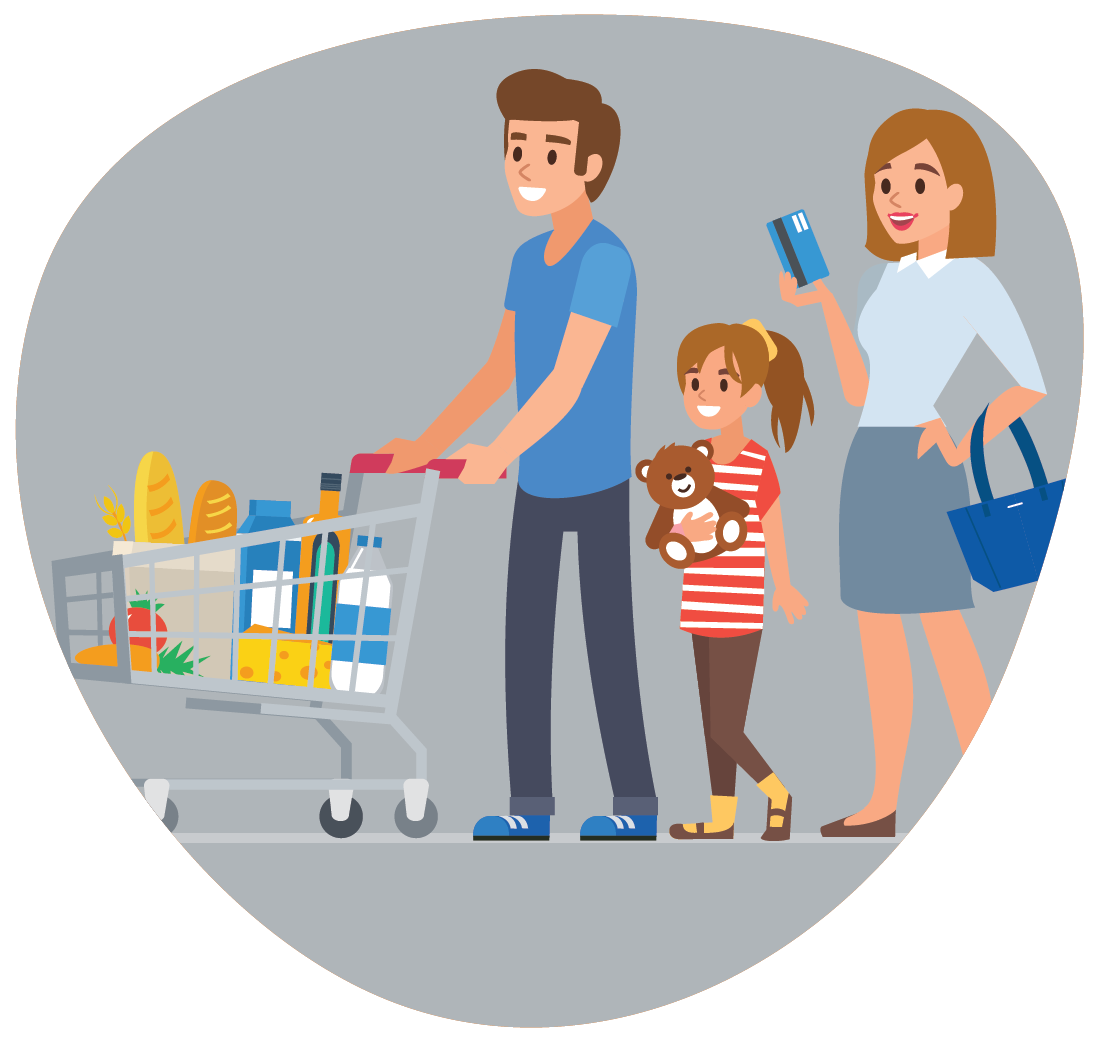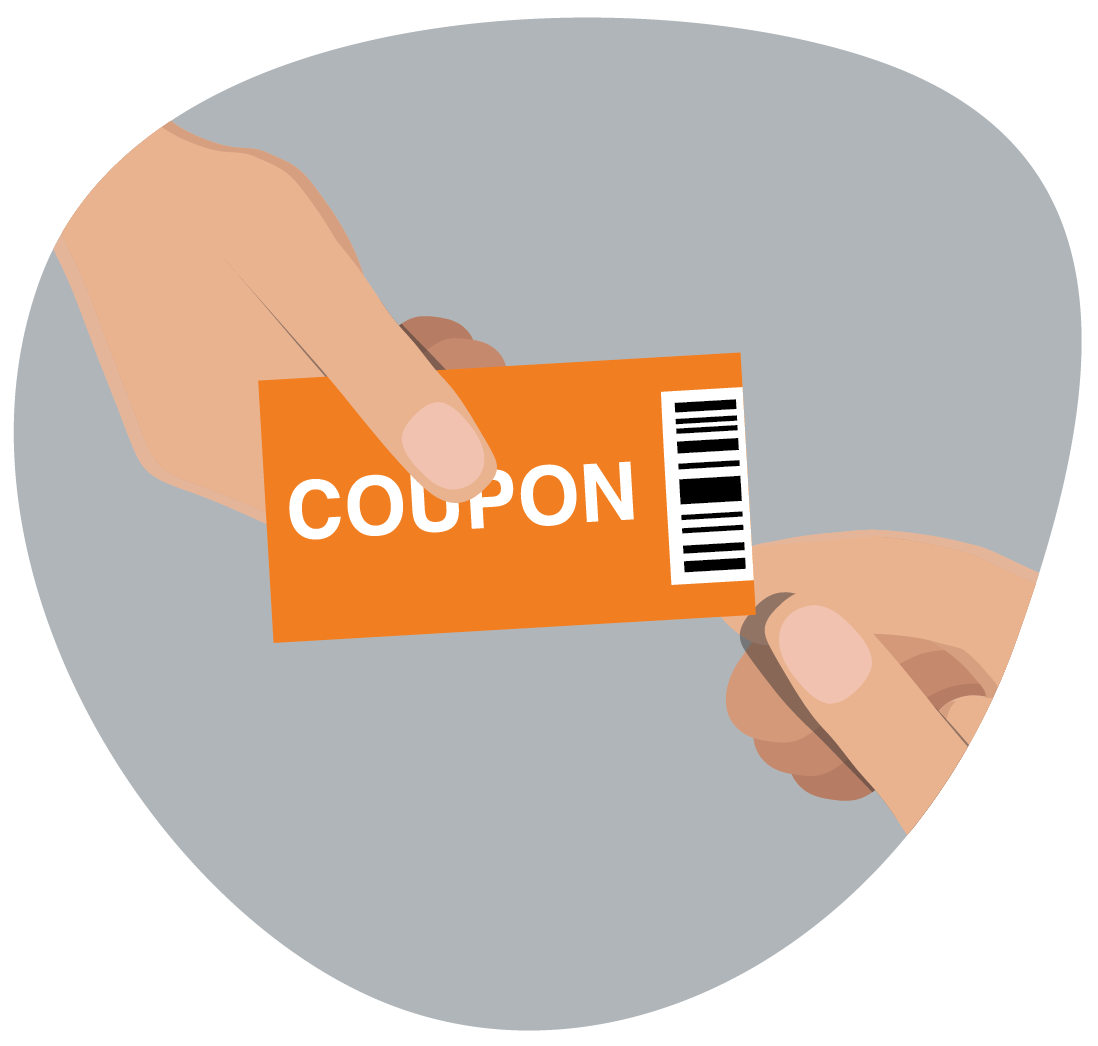 STEP 2
Receive a lottery coupon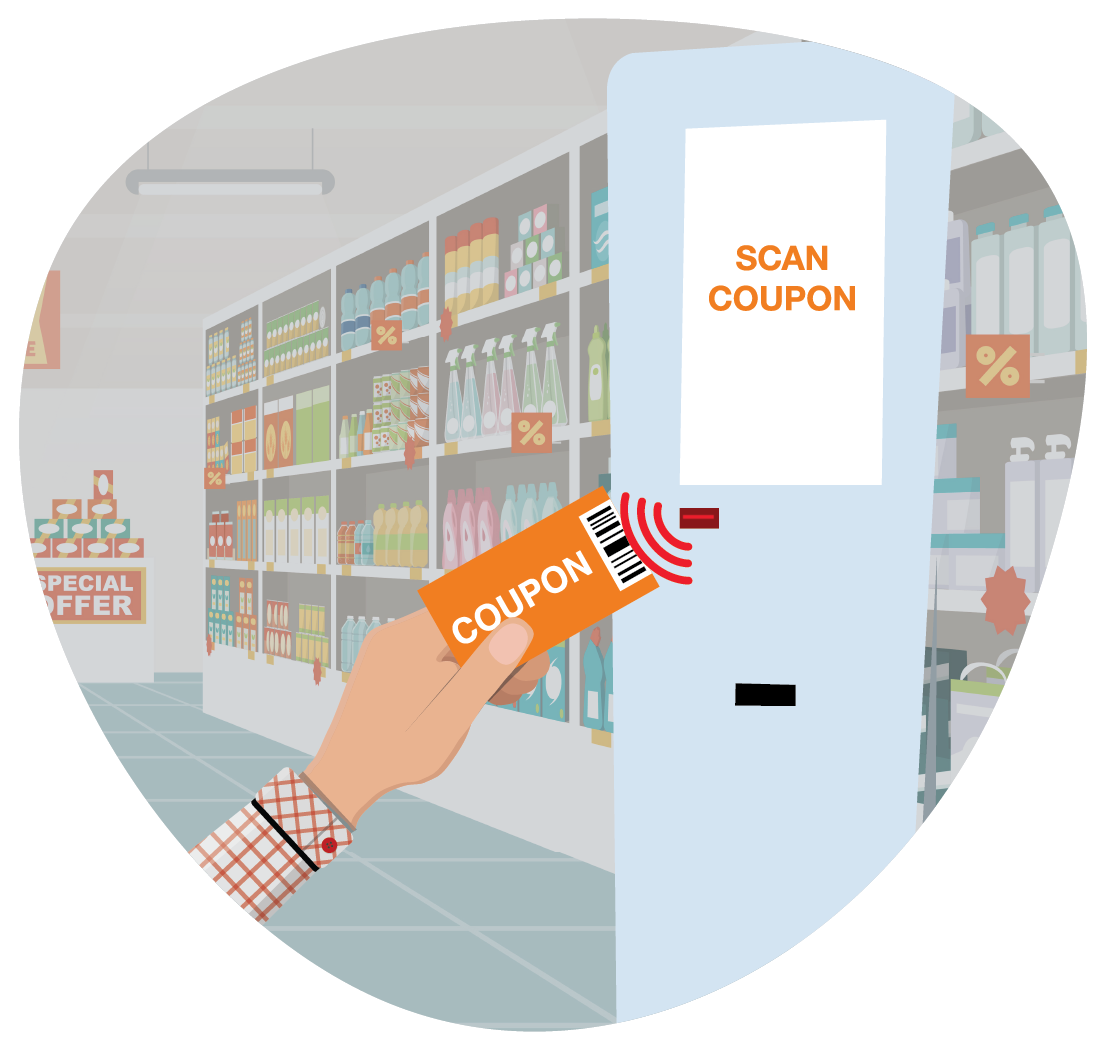 STEP 3
Scan coupon in terminal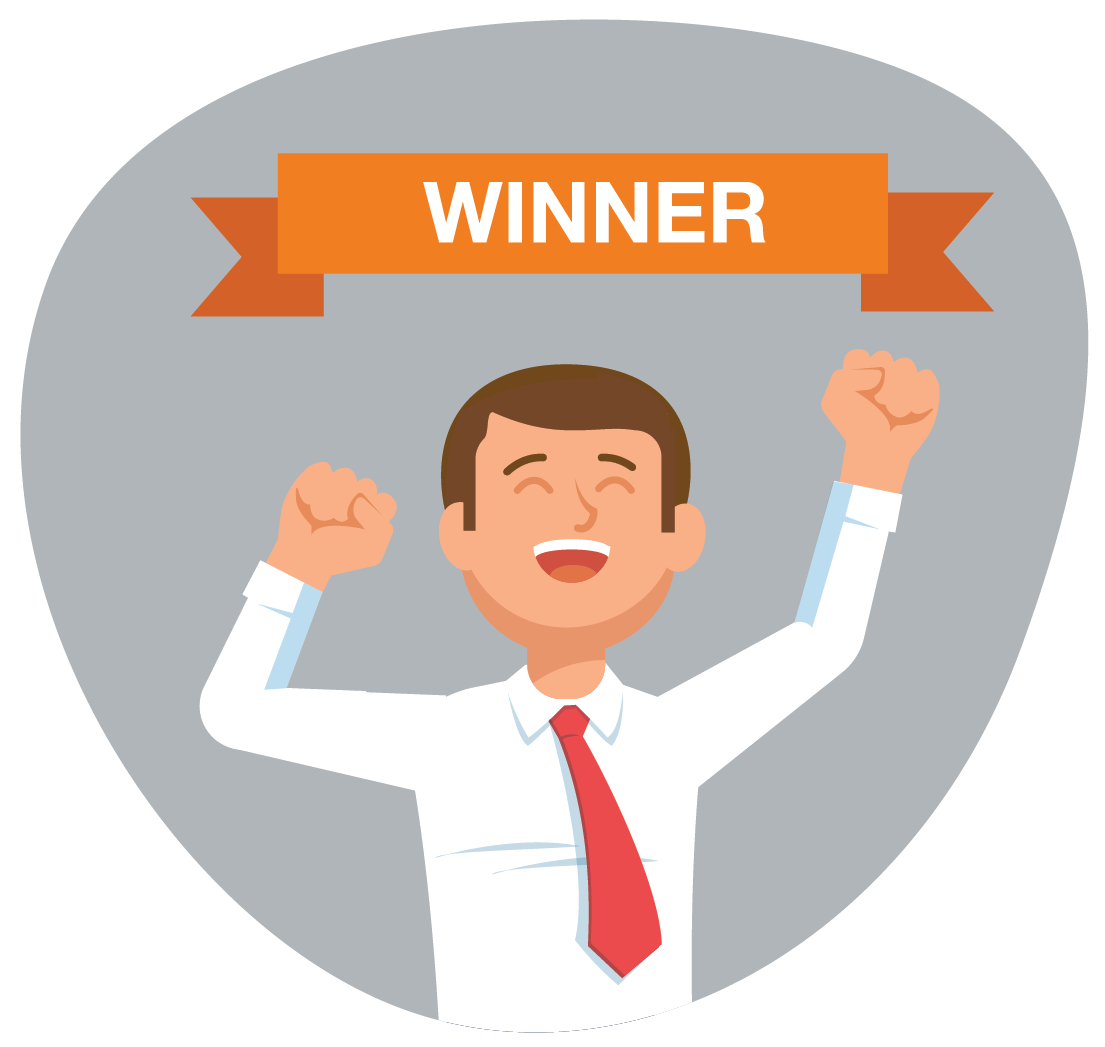 Want more?
Give your clients another chance to win and add a second chance online to the mechanism.